---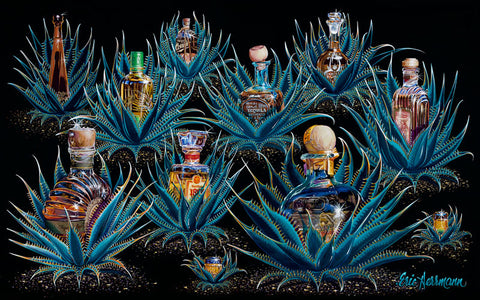 Tequila Tycoon
---
After a weekend enjoying some of the finer Tequila's with friends, I found myself wandering around my desert compound looking at Blue Agave plants and trying not to fall into them. Cool looking plants. Colorful, beautiful, but still spiky and kind of menacing. Like a fine bottle of Tequila. It starts with a beautiful bottle, but you never know where you're going to end up. Wouldn't it be nice if I could just walk over and pick me a bottle!
Well, in my world I can. I rounded up the bottles scattered around the studio, checked out the Blue Agave plants, and created my perfect Tequila Plantation. If I actually owned this imaginary plantation, I'd be a Tequila Tycoon! I could wander around my plantation, check on my Agave's, and watch them bloom; harvest them before they spoil...
It's good to be a 'Tequila Tycoon'.
The Original Painting was painted on a large piece of coated metal. I thought by using Metal with a smoother texture than canvas, I could pull smoother lines in the Cacti. The painting part worked, but it was very heavy and hard to ship. It also went to a Collector who lives on the ocean in a Florida Mansion. I never considered the rust factor. The client was advised and he took the rust risk as it was my only large Metal painting. It remains in perfect condition, so far.
The Original Painting is in a private collection in Davis Island FL. 2009
---
More from this collection