---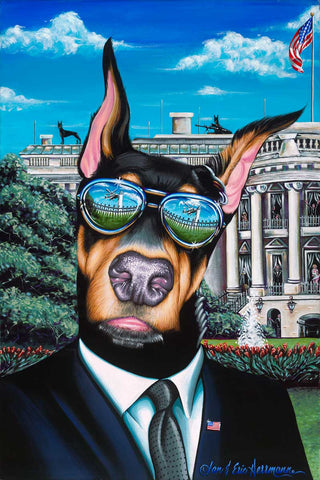 Protected
---
A joint painting by the father & son artist team of Ian & Eric Herrmann.
Ian and I have been working on several portraits and personalities of the same dog, our Doberman C-4.
'Protected' is Ian's version poised in front of the White House in his best Secret Service outfit. Doberman's are known protectors as they circle the perimeter always on guard. The devil is in the details in this painting! Discreetly within the windows you'll find imagery representing some of our illustrious leaders.
Mr. Peanut (Jimmy Carter), Wild Bill and guest (Clinton), Tricky Dick (Nixon) Basketball Jones (Obama), Honest Abe (Lincoln), Marilyn (JFK is somewhere nearby) and good ole George W.
The Original Painting is in the collection of Ian & Eric Herrmann and is available. 2015
---
More from this collection