---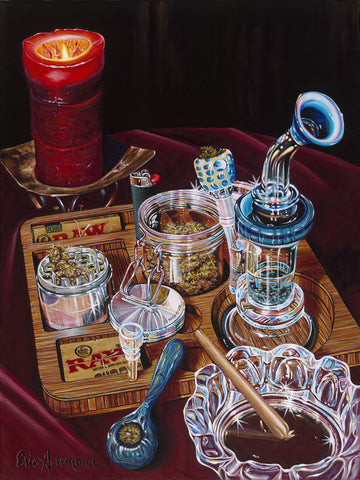 Chill
---
Artist Eric Herrmann is exploring the finer side of the cannabis culture. This industry has finally come out of the closet and the art encompassing it needs to be updated from 1970's black light posters. The technology and manufacturers creating products for this
industry are some of the most creative craftsmen I have ever met.

In a simple, yet elegant table setting, Eric sets a mood of calm and relaxation. Sit back, relax, chill, and have a smoke. The bowls are always full and the glass is always clean in my paintings. 'Chill' will adorn any home or business with style and grace.
I painted my collection of Cannabis art over ten years ago. The public wasn't ready to hang "Pot" art in their homes. Corporate clients voiced their opinions and I removed these images from my web site. Well, times have changed! Ahead of the curve I guess. I'm glad we're on the same road finally.
The Original is in a prominent private collection in Milwaukee WI. 2013
---
More from this collection