---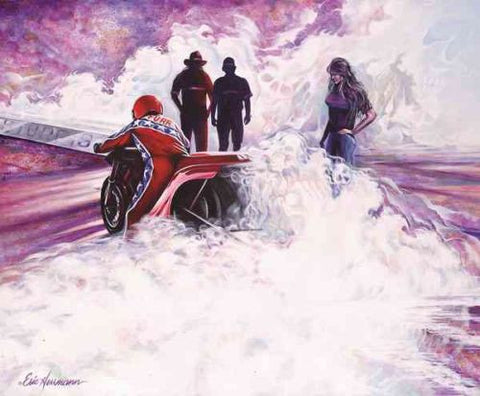 Wicked
---
Top fuel world champion drag racer Bill Furr lights them up during a pre-race burn out. Look closer and discover all the tension, excitement, and danger hidden within the smoke. You'll find hidden skulls, a handful of throttle, and a whole lot of tension, while the crew casually looks on.
An early painting from the 90's created with a unique process of adding rock salt and water to the paint pigment. There's a slight texture in the purple areas from the salt. As I began painting in the smoke I started to see things and skulls and images progressed.
Motorcycle Drag Racing History! Bill and his son still run his race shop in NC.
The Original Painting is in a private collection in Los Angeles CA. 1998
---
More from this collection