---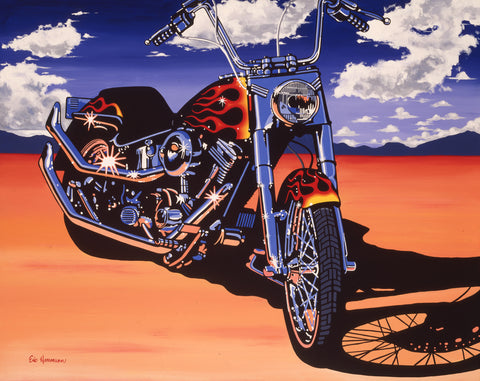 Time Out
---
An early 90's painting'Time Out" was the first print I produced. A big expense to print 1000 prints on an unknown image, when motorcycle art was just getting recognized. My chrome was getting better and I was shading and starting to blend colors. I still wasn't getting the motor details I paint today.
"Time Out" has a story, to me. I was riding from Chicago to Arizona in the 70's. Back roads from Durango CO to Flagstaff AZ. Part of the route in the Easy Riders movie. I'm outrunning a storm in the mountains when I hit the flats around Four Corners. The wind picks up and it's getting dark. I tuck into the guard rail around the monument, pull my leather over my head so I don't get sand blasted, and fall asleep. I awake, it's 140 degrees inside my leather pillowcase, pop out and there's 500 Tourists stepping over me to get to the 4 Corners Stone. I fired up the scooter and hooked it to Phoenix. A memorable solo ride!
I sold the Large Original to a Banker at H-D's 90th Anniversary, $2500.00 I think. He opened the Bank on a Sunday and we hung it in the conference room. Turns out all the H-D Corporate dudes lived & banked in this little suburb. Ten's years later, the Banker calls and want's the appraised value, as he's donating it to a M.S. Auction at H-D's 100th Anniversary. I appraised it at $12,500.00 and it went at Auction for $15,000.00. A nice return while enjoying a piece of art for 10 year's.
I have no idea where the Original Painting has ended up. 1993
---
More from this collection