---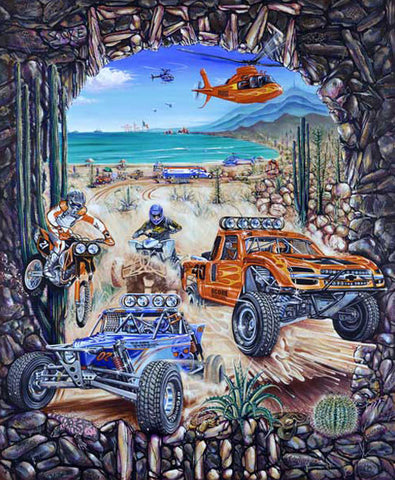 The Tecate SCORE Baja 1000 / 40th Anniversary
---
I've been riding and racing dirt bikes for about as long as the Tecate SCORE Baja 1000 has been around. Living, riding, and racing in the desert, I thought I understood what went in to tackling this monumental race painting. Boy was I wrong. After a year of research, attending several races, meeting racers, photographing various reference materials throughout the Baja peninsula, meeting with SCORE and sponsors of the event, I realized I had only scratched the surface. I compiled as much information as possible about the race, racers, and history and began to create a mystical, yet accurate painting of the event. Following are my thoughts and some of the hidden details on this very challenging work of art.
I began with a rock arch border, as these are some of the elements of Mexico that first come to my mind. This border would also offer me an opportunity to place racers and celebrities names and locations that have been influential to the event over the past 40 years. The Baja peninsula is a vast and varied terrain ranging from mountains and oceans to rocks and desert. There are also plants that are specific to Baja like the Boojum tree and Giant Cardon Cactus.
As this years race begins in Ensenada and finishes in Cabo san Lucas some noteworthy landmarks from both towns exist in the back ground. The shipyards of Ensenada and Rock arches of Cabo appear on the horizon. Along the perimeter you'll find six desert animals including a Gila Monster, Desert Tortoise, Rattlesnake, Scorpion, Cactus Wren, and a Tarantula. The radio tower of "The Weatherman" stands upon the highest peak.
The race vehicles include a Trophy Truck built by the legendary Walker Evans, A Class 1 buggy, dirt bike and a quad. Racers Bob Shepard, Larry Ragland, Dave Mason, and Tim Gendreau, assisted me with the the smallest of details which include bent antennas and Hula girls on the dash. Some of the sponsors that have assisted over the years are included as well: B.F. Goodrich, Volkswagen America, Bilstein, Tecate, and Sunoco Race Fuels to name a few. SCORE logos, the sanctioning body, can be found on Helicopters, trucks, buggy's, and rocks. The 40 on the Trophy truck represents the 40th anniversary and the 07 on the buggy represents the year 2007. The Baja peninsula can be found in the center of the number 40. In the background you'll also find some of the history of the event as Parnelli Jones famous Bronco 'Big Oly" and a Class 11 Volkswagen make up the landscape. Helicopters are found throughout, as they have become a common part of the race visuals.
This painting is now 24 years old and in my collection. I was the first artist to be Licensed to paint The Baja Races. Race Vehicles and their lighting and equipment have changed. I'm glad I got to paint this image and preserve some of the early technology and equipment for generations to come. It was a huge amount of work spanning several races and years before completion. It was not a huge financial success at the time, but I'm honored to have had a part in this Historic Racing Series. 2016 C
---
More from this collection