---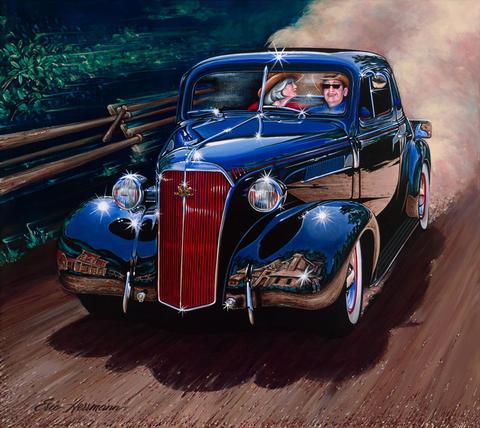 The Home Stretch
---
The Home Stretch was commissioned by Kim Reno for her husband Augie who received a fellowship into The American Society of Architects. Very prestigious Augie! Augie is a famous Mountain Architect with offices in Aspen CO & Carefree AZ. Since he has an awesome car collection, many of which he restored himself, we immediately got along.
The pride of his collection is his 1937 Chevy Deluxe Business Coup.
Kim, on the sneak, slips me some workable photos. I decided to place two of Augie's significant mountain residences reflected in the fenders. He's also a baseball fan; you'll notice the fence, and likes to sing. Find the tenor notes hidden throughout. Augie & Kim are blasting out of town as their two daughter wave goodbye. They're gonna party in the new estate!
What a fun project! Augie was very surprised. The hardest part was swearing our mutual friends to secrecy through this project.
The Original Painting is in a private collection in Carefree AZ. 2010
---
More from this collection