---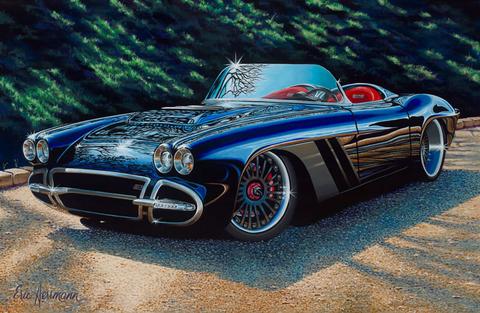 Roadster
---
After winning the coveted "Street Machine of the Year" award, GM Design award, and Trendsetters award, Barry Blomquist's C1-RS Corvette was destined to go down in automotive history. The Gerber brothers of The Roadster Shop fame amassed countless hours and the finest craftsmen in the world to create this stunning 1962 Corvette. Talking with Eric at his art display during The Barrett-Jackson Auto Auction, Barry decided to take his "Roadster" to an even higher level and commissioned Eric Herrmann to create a fine art painting to immortalize this famous vehicle.
Eric flew to an open house at The Roadster Shop for a photo shoot and was treated to an inspiring ride in the C1-RS by Barry. A longtime motorcycle racer, Eric wasn't aware of Barry's lifelong enthusiasm for automobiles and his ability to use the 600+ horsepower under his foot. Blasting through Midwestern country roads Barry and Eric found a perfect setting in the trees to pose the "Roadster".
Back in his Arizona studio, armed with hundreds of photos, Eric began the two month long painting project. With only his brushes, acrylic paint, and canvas, Eric has created another world-class work of art, simply titled "Roadster". I'm very fortunate to have risen to this level in my art career where the finest vehicles in the world are offered to me as subjects, states Eric. Barry's new painting "Roadster" measuring 30" x 46" hangs proudly in his home where he can view it daily when he's not out tearing up the countryside.
The Original Painting is in a private collection in Eau Claire WI. 2008
---
More from this collection