---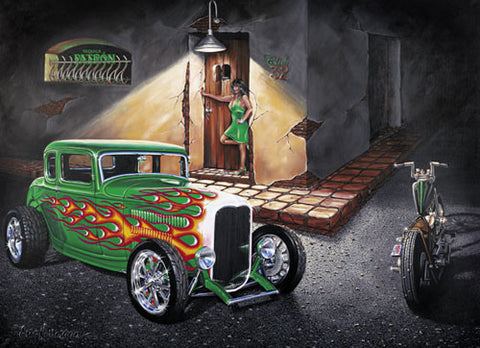 Club 32
---
Artist Eric Herrmann completed a five month project, titled "Club 32". The massive 5' by 6' original painting was commissioned by Billet Specialties, the most recognized name in the Hot Rod industry. The 32 Ford "Deuce" was built by Roy Brizio, and Glenn at Billet Specialties left the creation of the artwork up to Eric. With very little direction, only "my "32" and a hot latino chick," Eric created "Club 32".
"Club 32" takes a classic hot rod, the 32 Ford Deuce and places it in questionable surroundings. Most of the hot rod art I've seen uses the setting of an old gas station or 50's drive inn, states Eric. This street rod, sporting 600 Horsepower was so Bad Ass I wanted to put it in a setting that would do it justice. A seedy street scene, where you could pull up on your bike or this 32', but if you showed up in an Escalade, it would get jacked, states Eric.
As with most of Eric's art, it's the hidden details that tell the story. A woman at the door entry with a double barrel shotgun from the speak easy window, One Hundred dollar bills at her feet, hidden mice, and a 1959 Panhead, among other subtle details make for an interesting evening at "Club 32".
About Billet Specialties
Billet Specialties is proud to be one of the most recognized names in the Hot Rod Industry. We have been considered "original equipment" by such great names in hot rodding as Roy Brizio, Troy Trepanier, Bobby Alloway, and Barry Lobeck.
With over 600 accessory products and 90 plus wheel styles Billet Specialties has the most diverse product line in the industry and it's growing every day. No other billet wheel or accessory manufacture can make that claim. We have been delivering the most innovative wheels, interior, exterior, and engine dress up and performance accessories to enthusiasts since 1985.
The Original Painting is in the corporate collection of Billet Specialties in Chicago IL. 2012 C
---
More from this collection