---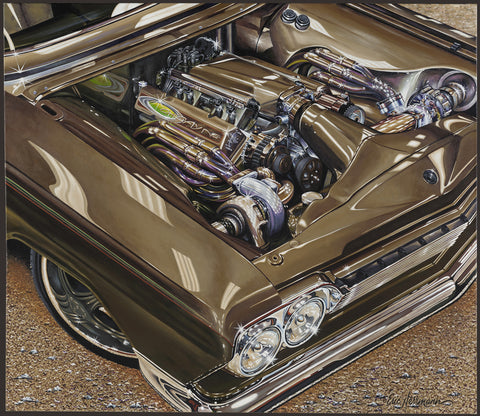 Chicayne
---
"Chicayne", one of the most famous street rods in the world, is the subject of Eric Herrmann's latest four month painting project. Anyone remotely interested in cars, knows of this fire breathing, twin turbo, 1200 H.P. 1962 Chevy Biscayne that possesses blinding acceleration, like 60 to 160 mph in under 3 seconds. "Chicayne" was built by Rad Rides by Troy, for Billet Specialties, the premier Hot Rod supplier in the world. When Billet Specialties wanted a fine art painting created to immortalize this famous vehicle, there was only one choice, Eric Herrmann. The $35,000.00, four month project, measuring 42" x 48", took Eric to Troy's Midwestern shop several times for reference photos and color details.
Wheels were shipped to Eric's studio so he could match colors perfectly. Just as in the build of the car, nothing was overlooked. Some of the closely inspected details include the lettering on the fuel injectors and serpentine belt. "I felt I had to do this car justice as far as the technical accuracy of the painting is concerned" states Eric. "Both Troy and Billet Specialties went to great lengths to build this stunning vehicle." Eric is also known for the hidden details within his artwork, and "Chicayne" has several. I included several flying "B's", a Billet Specialties Logo, Troy's Logo, The Gear, and a mischievous mouse, says Eric.
The original painting was unveiled to the public for the first time at the Barrett- Jackson Auto Auction 2009, and was covered on Speed TV. Speed TV also covered a work Eric had in progress during the event. Watch for Eric & his art on reruns of The Barrett-Jackson 2009 coverage. Comments on this intricate painting were well received from notables such as GM Corvette Designers, Sherwin Williams Paint Execs, Drag Racing Legends, and Premier Hot Rod Builders. Seems like once again, Eric has raised the bar in automotive art with his intricacy and technical accuracy of this world class vehicle.
About Billet Specialties
Billet Specialties is proud to be one of the most recognized names in the Hot Rod Industry. We have been considered "original equipment" by such great names in hot rodding as Roy Brizio, Troy Trepanier, Bobby Alloway, and Barry Lobeck.
With over 600 accessory products and 90 plus wheel styles Billet Specialties has the most diverse product line in the industry and it's growing every day. No other billet wheel or accessory manufacture can make that claim. We have been delivering the most innovative wheels, interior, exterior, and engine dress up and performance accessories to enthusiasts since 1985.
The Original Painting is in Billet Specialties Corporate Collection in Chicago IL. 2015
---
More from this collection