---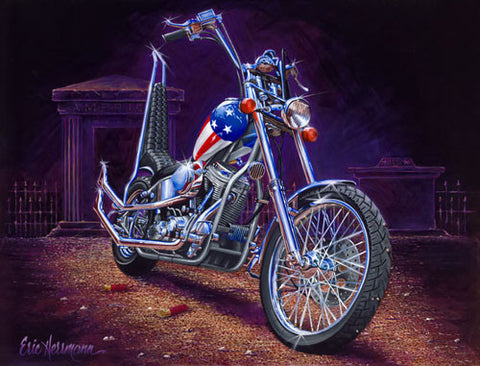 American, Always
---
If you're in my age group you probably saw the movie "Easy Rider" when it first appeared. Very turbulent times indeed. The war in Vietnam, long hair not allowed, drugs, and choppers. Well times have changed, or have they?
"American, Always" depicts a modern day version of one of the most famous motorcycles ever made. Of the two original "Captain America" motorcycles made for the movie, one was destroyed, one was stolen. Billy and Wyatt died from a Duck Hunters Shotgun. Placed in a graveyard setting, just as in the movie, the bike still shines, the flag stands tall, and we are all still riding. Times sure have changed, or have they.
Very turbulent times these days. It's not like we haven't seen this before.
I've been riding since before the movie "Easy Rider" appeared and I still am.
I still get Goosebumps when I hear the national anthem at a NASCAR Race.
I am an "American, Always".
The Original Painting is in a Private Collection in Davis Island FL. 2013 C
---
More from this collection