---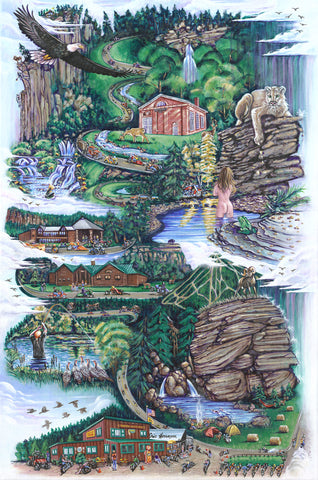 75 Spearfish Canyon
---
Having attended Sturgis for over 25 consecutive years, Eric has put on some miles in the Black Hills. One of his favorite rides is the beautiful "Spearfish Canyon". Eric also exhibits his art at Cheyenne Crossing, the top entrance to Spearfish Canyon.

I've ridden through the canyon on both road and dirt bikes. We've hiked, fished, and rock climbed here. I've run across wild life and paw prints so large, I've turned around. Over the years we've collected all the forest service maps, elevations, and know the fire roads. I live in this canyon 2-3 weeks a year, states Eric.

Armed with all his reference material, Eric set out to make a representation of the twenty mile canyon that has over fifty twist and turns for motorcyclists. 75 motorcycles to be exact. Representing the 75th Anniversary of this historic event. Many of Eric's motorcycle references are from experience and the people he has met in the canyon. You'll find burnouts, riders riding no-handed, wheelies, and biker fun throughout. Following is a list of notable points of interest, animals and vehicles:
Bridal Veil Falls
HomeStake Hydro Plant (1917)
RoughLock Falls
Devil's Bathtub
Spearfish Canyon Lodge
Latchstring Inn
Elmore (former Lumber Camp)
Terry Peak
Annie Creek
Cheyenne Crossing

You'll also find the following:
75 Motorcycles
Assorted Trikes & Offroad Vehicles
1 Mountain Lion
1 Frog
6 Deer
1 Trout
2 Mountain Goats
1 Eagle
5 Turkey
27 Birds
3 Double Semi Trucks
1 Buffalo
1 Narrow Gauge Rail Train
2 Rock Climbers
1 Doberman
1 32 Ford (Flathead)
Lot's of Biker's fishing, camping, swimming, riding, and having fun.

The original painting "75 Spearfish Canyon" took years of research and months to paint. It is in a Private Collection in Las Vegas. The owner is considering selling it as he downsizes. Interested parties contact me for details. 2015
---
More from this collection