---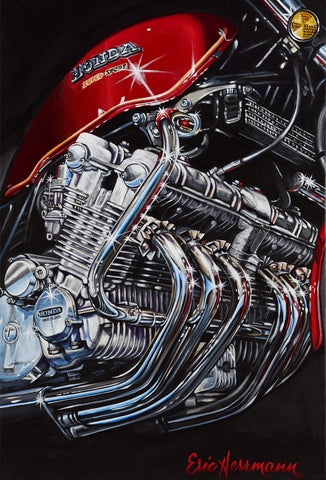 X
---
Honda's CBX, 6 cylinder was produced from 1978-1982. A masterful piece of engineering, this beautiful motor sounded like an F1 car. If you didn't have one, you wanted to ride one! Now over 40 years old the CBX is a valued classic and has a prominent place in Motorcycle history. 
I needed the perfect angle to showcase the motor and those six pipes. I took hundreds of photos every time I ran across a CBX. This went on for two years. Finally, at The Barber Museum, I ran across a CBX on a Pedestal. I could get below ground level and shoot up from the bottom. I think I nailed it! Most of the motor and the perfect amount of red.
The Original Painting is in my collection and currently available.
Interested parties contact me. 2019 C
---
More from this collection