---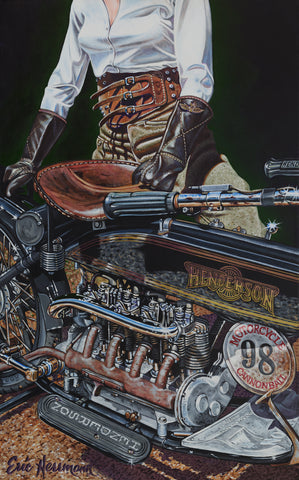 Four Play
---
A confident & determined woman with her 1913 Henderson, four cylinder, race bike. A classic pose that could have been from 1913.
Andrea LaBarbara was my model for this determined woman, and she is racing #98 in the 2018 Cannonball Race from coast to coast this year. Riding a 1913 Henderson, this commercial jet pilot and avid motorcyclist is the real deal! Traveling from Portland Maine to Portland Oregon, Andrea and 100 other motorcyclists will race almost 4000 miles on 100 year old machines. She is one of four woman entrants in the 2018 Cannonball Race beginning in September.
Since the completion of this painting "Andrea" went on to place third in The Cannonball. The highest podium finish by a woman ever. Andrea has raced several other Cannonballs and about every motorcycle she sits on. She is an inspiration and a true female ambassador to the sport. The painting "Four Play" is becoming a very popular image and can be seen on display at The Sturgis Motorcycle Museum in SD.
The Original Painting is in the private collection of Bob & Andrea in Boston MA. 2018 C
---
More from this collection