---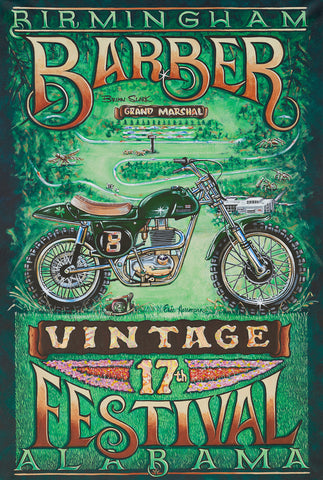 Barber Vintage 17th
---
I've exhibited at The Barber Vintage Festival for half a dozen years now and I'm extremely honored to create a painting for this 17th annual event. It's taken me this long to experience the museum, race track, and the spectacular grounds that encompass this magical facility. There are sculptures throughout the park, some discreet, others larger than life. From the "Swamp Rat" to the Truck Size Ants drinking from a Coke Bottle, I've tried to include many in this painting. The track and museum are equally stunning and it took some planning to create a painting that represents this beautiful facility. From perfectly groomed lawns and flower beds, to exquisite camping spots in the Alabama Forest, The Barber Motorsport Park has it all.
Brian Slark is the Grand Marshall this year, a man I've met several times. 2012 AMA Hall of Famer, Master Restoration Expert at Barber, and one of the pioneers of early Motocross, Brian has spent a lifetime in our Motorcycle Industry. I've included an early Rickman Metisse BSA with a Shamrock for the club he rode with in those early days as well as his race numer "8".
If you havn't experienced "Barber" you need to. There's more to the facility than just the World's Largest Motorcycle Collection. It's truly a Bucket List journey for any Motorcyclist! George Barber, you've executed a Magnificent Vision! Thank You.
I've donated the Original Painting to The Museum which will be auctioned at this years Motorcycles by Moonlight Dinner. 100 percent of the proceeds will go to the Museum. An extremely Limited Edition of Prints will be produced with a portion being donated to help fund this Motorcycle worthy cause. Help support The Barber Museum if you're a motorcyclist. Keep motorcycling alive for generations to come. Thanks George & Staff. You're the best! C 2022
---
More from this collection