---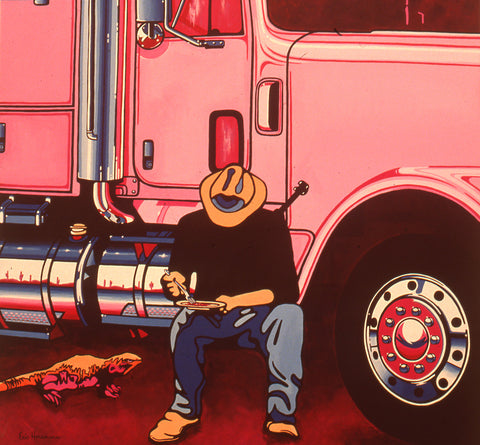 Lot Lizards
---
"Lot Lizards" is an 80's painting of a trucker trying to eat a bowl of Chili while an annoying Lizard stands by begging. I spent years between semesters at Art College driving trucks. I'd save a bunch of money over the summer driving and having not to pay for rent. Lot Lizards are what truckers call the Hookers working the Truck Stops. I'd have certain rest stops where you couldn't even sleep as they would be banging on the sleeper looking for work. Annoying! I decide to paint my version of "The Lot Lizards".
I sold this early painting at Barrett-Jackson to a customer who went on to own several of my Originals. A wealthy gentleman with a large art collection, including an Original Picasso, that "Lot Lizards" hangs next to. I asked him once why he bought this piece to add to his collection. He was intrigued and said he'd never seen an Artist paint a Pink Semi with a Driver and a Lizard, and he'd been to Art Galleries and Museum's worldwide.
Mike Corbin once said about my art, "I see the World through Blue Collar Eyes". Great comment on my Artwork Mike. I guess I do.
The Original Painting is in a Private Collection in Malibu CA. 1991
---
More from this collection