---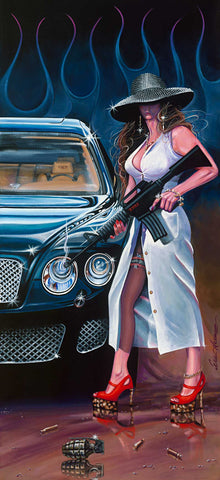 Level 6
---
 The Bentley Speed Sedan is the fastest production sedan in the world, capable of speeds in excess of 200 mph, with 0-60 times in the four second range. Most Bentleys come equipped with Level 3 protection standards that include bullet resistant glass. Estimates are that 90% of all terrorist attacks happen while in autos.
Level 6 Protection can withstand multiple rounds from a 30 caliber high powered rifle. Floors are armored against hand grenade blasts and options include Butane Tanks and burners to incinerate would be attackers from all sides. This Bentley has full armored protection, W-12 engine with twin turbos, 6 point seat restraints, windshield post gauge package, 50 caliber machine guns, Butane option, and chilled Martinis.
In my 'Level 6' world I chose to add the option of 'Grace'. A fine example of protection that has an arsenal of her own. Grace is packing an AR-15 with kill marks, Derringer up her thigh, shell casing jewelry, spare bullets around her ankle, and is ready for all the action that can be thrown at her. I'm sure you'd pay dearly for this package, but if you've got it, what better way to spend it. Fast cars, fast women, and guns!
The Original Painting is in a private collection in Davis Island FL. 2008
---
More from this collection