---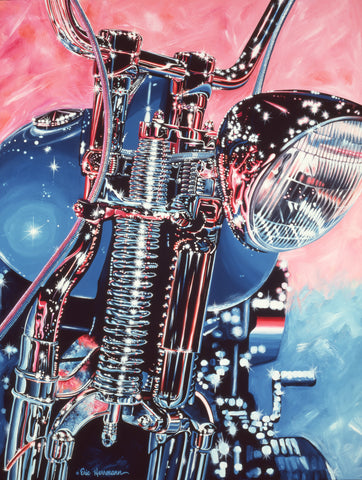 Daytona
---
A painting from the early 90's in classic Florida, Miami Vice colors. This bike was photographed at an indoor show under a lot of lights and seemed suitable for the Daytona painting I had in mind. I was learning about how to paint chrome at this time and this piece really helped me to understand reflections. One of my early paintings where I began to hide things within. Daytona's main street has these unique, cool old street lamps. I hid some in the headlight.
The Motorcycle Industry was booming at the time and Mike Corbin built a Palace on Main street Daytona. Mike purchased the original where it hung in the lobby of his store for years. Mike hosted fabulous industry parties during Bike Week and I frequently signed posters for his guests. We handed out hundreds of these that ended up worldwide. Thirty years later I still get Compliments and Thanks for the posters we handed out for free. This painting affectionately became known as "The Blue Springer".
H-D sent me a cease & desist order on this piece also. Their claims weren't valid so I continued to sell posters. Just recently Mike Corbin donated this large painting to the Sturgis Motorcycle Museum & Hall of Fame. It's front and center with a few Canvas prints of mine as well. Mike Corbin, you're a class act! Thanks for supporting my Art for years!
I just found an old package of these posters in storage, so I have a few available.
The Original Painting is in the Collection of The Sturgis Motorcycle Museum & Hall of Fame. 1995
---
More from this collection